O4L PEOs Caps 120 ct.
SKU:

O4L-PEOCAPS-1

Bulk Pricing:
"All chronic pain, suffering, and diseases are caused by a lack of oxygen at the cell level." Dr. Arthur C. Guyton, M.D., author "The Textbook on Medical Physiology."
Oxygen4Life PEOs are the ideal way to supplement some of the precious Parent Essential Oils everyone requires, but you may be lacking. Your body cannot make Parent Essential Oils; they must come from food and all of your cells need them to function properly. Unfortunately, most food processing destroys these delicate oils and the results can be disastrous.
The Problem
PEOS start out in food, but by the time the food processors finish, these precious nutrients can be either converted to unhealthy transfats, removed or deactivated. Food processing presents an insurmountable problem whose hazards may be minimized by supplementation. Chemical processing and high heat transform PEOS and other unsaturated oils into transfats. You may recently have heard on the news about the damage transfats do.
Below are typical steps a food processor uses to make commercial cooking oils like those you buy at your local supermarket and eat at your favorite restaurants. Even though you may not want to consume them, it's nearly impossible to completely avoid them.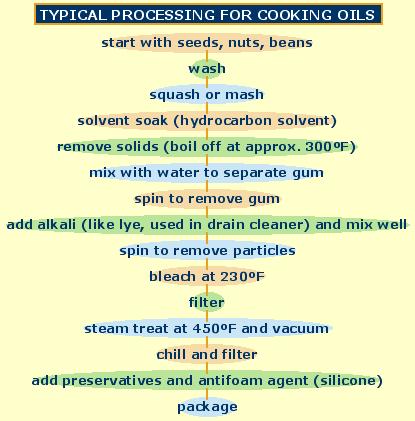 The Solution
Many of us are overdosing on harmful transfats and not getting enough of the unprocessed oils containing the precious Parent Essential Oils. Oxyge4Life's PEOS are cold-pressed and organically produced. You can rest assured there are no fishy oils that need to be masked with other flavors.
Fish have no oil glands so creating fish oil supplements basically means you get "juiced" fish. "Juiced" fish is the worst way to get your PEOS. This is one of the reasons we don't offer fish oil. Another reason is contaminated water supplies. Fish toxins, including mercury, may magnify into higher and higher levels in these concentrated fish oils. Even if fish oil supplements claim to have removed harmful toxins, the processing needed to do so may also alter the natural oils. You do NOT want this regardless of who is making the claims for concentrated fish oils. Furthermore, fish is high in derivative omega 3 not the required Parent Essential Oils nature intended us to get.
Instead of relying on fish oil containing mostly "derivative-based" omega 3 oils, we use healthy organic Evening Primrose oil and/or organic high linoleic Safflower oil - both excellent sources of "parent" omega 6, along with organic flax oil and organic Pumpkin oil for "parent" omega 3, to obtain what we consider the ideal science-based "parent" omega 6/3 combination. Healthy, organically-raised seeds are the very highest quality source for the Parent Essential Oils we require.
The proper PEO ratio based on science is another extremely important issue that needs to be addressed. There is a misconception among nutritionists that we already get plenty of omega 6 in our diets. The problem is that we get very little pure, unadulterated "parent" omega 6 oils because, to get long shelf-life, most will be turned by the food manufacturers into cancer-causing transfats or damaged in some way making them ineffective. Furthermore, and of extreme importance, you can easily "overdose" on excess omega 3, which can cause serious health problems. More than 97% of your body needs at least a 4/1 ratio in favor of "parent" omega 6 over "parent" omega 3 because that is what your tissues and organs require.
Our unique PEO formulation takes into consideration the good "parent" omega 6 you may already be getting in your diet, as well as carefully balancing it with the proper ratio of "parent" omega 3. There isn't another PEO formulation on the market today with such a careful balance, using naturally produced seed oils instead of fish oil, and providing the parent oil, and not just the derivatives.
We bring you convenience without compromising quality or requiring refrigeration. How do we know that our formula is so great? Because thousands of people from around the world: athletes, celebrities, and people like you and me, rave about it, including our entire staff and many of their family members. We've all been taking the supplement for years and we never miss a day without them!
IMPORTANT: Be sure to take a minimum of 4 - Oxygen4Life Parent Essential Oils daily for nutritional support and to assist with appetite fulfillment. If you think you may forget your second dose, it is best to take all 4 at once, rather than to only take 2 on any given day.
"What makes Oxygen4Life's PEOS worth the price?"
They REALLY Work! If you've taken vitamins all your life, you've found a far superior substitute in our three unique and powerful supplements! Many of our customers refer to Oxygen4Life's PEOS as "liquid gold." Unlike most commercial oil supplements, Life Systems International PEOS are produced in small, limited quantities. The oils have no pesticides and have organic certification. We have these incredible oils produced in a pristine part of the world. After low temperature pressing, we use special capsules with low oxygen permeability to protect the precious oils so no refrigeration is required. Since no fish oils are ever used, there is no "fishy" aftertaste or dangerous toxins. And you can rest assured that you receive "parent" oils, not the harmful overdoses of "derivatives," as found in so many commercial products. Don't settle for less than the very best!
Welcome to our "family." You will notice the Oxygen4Life's difference, and please share your success with us!